Bathroom & Toilet
Having the freedom to enjoy privacy and independence in the bathroom is incredibly important. If you are not stable on your feet and have limited mobility, the bathroom can appear daunting.
Common bathroom hazards can include:
Slippery surfaces
Steps or raised thresholds
Small, tight areas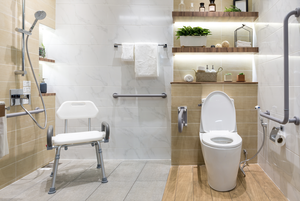 With our selection of mobility aids for the bathroom and toilet, maintaining safety and good hygiene is easy.
Our bath lifts are clever mobility aids that enable you to relish a deep soak in the bathtub by providing a platform to slowly lower yourself into the bath through a user-friendly waterproof controller. When you're done, simply raise yourself back to the top of the bath for a much smoother exit. We also stock a range of stools and chairs that can make showering much more comfortable for elderly or disabled people—with height adjustable frames and swivel seats offering the flexibility to suit anyone.
Our toilet aids are ideal for home care and commercial care environments. From disposable bed pans to toilet seat raisers and discreet bedside commodes designed to look like regular chairs, our selection aims to make life easier for everyone.
Our bathroom handrails offer convenient support for individuals with balance issues, and our easy-to-clean anti-slip bathroom mats are an affordable solution for slippery tiled floors, bathtubs, and showers. Regain independence and privacy with our comprehensive range of bathroom and toilet aids designed for the elderly and disabled.
Are you feeling less confident in your bathroom because moving around is hard? It's not surprising, considering the slippery floors and raised edges often present in a bathroom. However, making your bathroom and toilet safer is easy, and it doesn't need expensive or messy construction.
At Access Rehab, we stock a large range of Aspire, Etac, K-Care, Throne, and more, to make the little things easier in your bathroom and daily toilet routine. Whether you want to fully enjoy your bath, maintain dignity while using the toilet, or prevent slips on wet floors, we're here to help.
Offering bath boards, bath benches, bath seats, shower chairs & stools, shower trolleys, bathroom commodes, toilet seat raisers, anti-slip mats, and other items, our wide array of bathroom and toilet aids contributes to restoring your home to the safe, relaxing, and comfortable space it used to be.
For more information about our bathroom & toilet range, contact our helpful staff today!